Mr. Ling Bin, Chairman of KTC Group was given the title as one of the Shenzhen Top 100 Industry Leaders for the 4th session!
Source:KTC / Send time: 2020-12-11
In order to place greater focus on industry leaders and entrepreneurship in the new era, Shenzhen Enterprise Confederation and Shenzhen Entrepreneur Association, in collaboration with relevant industry associations and main media, organized the 4th Shenzhen Top 100 Industry Leaders Contest.
On December 4, a list of one hundred entrepreneurs standing on the forefront of reform and innovation of the industry was released on the Shenzhen Special Zone Daily. Mr. Ling Bin, Chairman of KTC Group entered the list for his outstanding contribution in flat-panel display terminal field.
The 4th Shenzhen Top 100 Industry Leaders Contest was themed by "Innovation and Leadership", which coincided with Shenzhen's construction of the Guangdong-Hong Kong-Macau Greater Bay Area and its leader role in innovation as a pilot demonstration area of socialism with Chinese characteristics. Through intense but orderly rounds of selection and evaluation for over three months, we finally selected top 100 innovative industry leaders with great driving force, contribution, influence and social responsibility.
In the review stage, the Juries of Shenzhen Top 100 Industry Leaders contest, under the leadership of Yu Jian, Secretary of the Party committee of Shenzhen Enterprise Federation, visited KTC Group on November 9. During the visit, Secretary Yu Jian and the jury members had a detailed understanding of the company's operation and development process, and experienced KTC innovative technology products in KTC exhibition hall. The juries fully affirmed KTC's entrepreneurial history and achievements, and spoke highly of KTC chairman Ling Bin's forward-looking strategic vision and ideal business philosophy.
After the inspection and panel discussion in the review stage, the juries had a further comprehensive understanding of KTC and ended with some suggestions. KTC's rapid and stable development from infancy to maturity in the past decades could be only achieved by KTC chairman Ling Bin's boldness to challenge the status quo and determination to invest in the flat-panel display industry. KTC was expected to develop steadily and seize opportunities for a bright future, and to provide more advanced scientific and technological products and high-quality services for the society.
KTC expressed its sincere thanks to juries of Shenzhen Top 100 Industry Leaders contest for their care and encouragement. Under chairman Ling Bin's leadership, KTC would give full play to its accumulative advantages, take the lead in innovation, and work to seize opportunities and make new breakthroughs as an industry leader.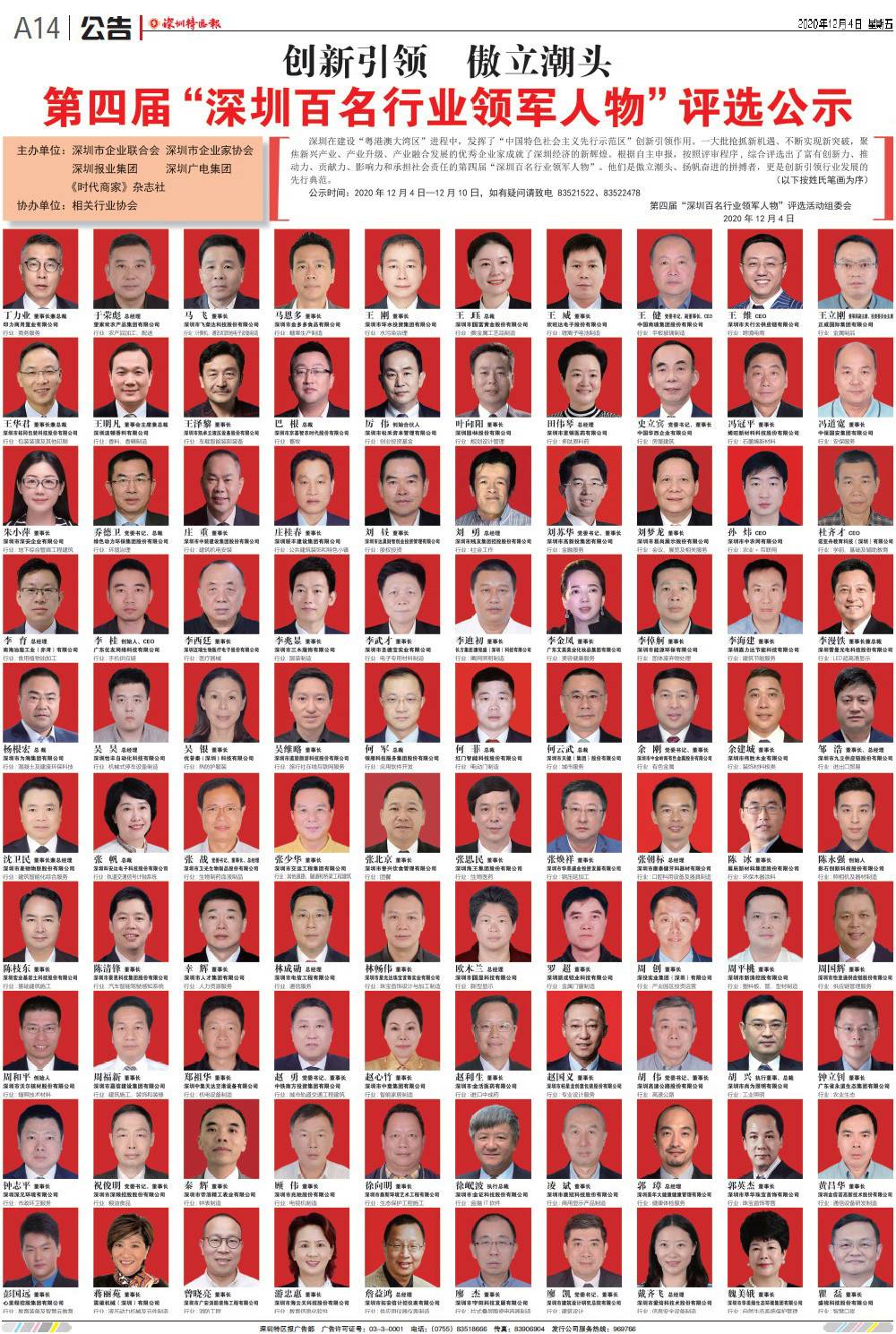 Shenzhen Special Zone Daily, December 4, Page A14
The forth from the right in line nine: Mr. Ling Bin, Chairman of KTC Group